Amenities
 Tiffany Place Beach Condo
A Premier Gulf Coast Rental
Anna Maria Island Vacation Rental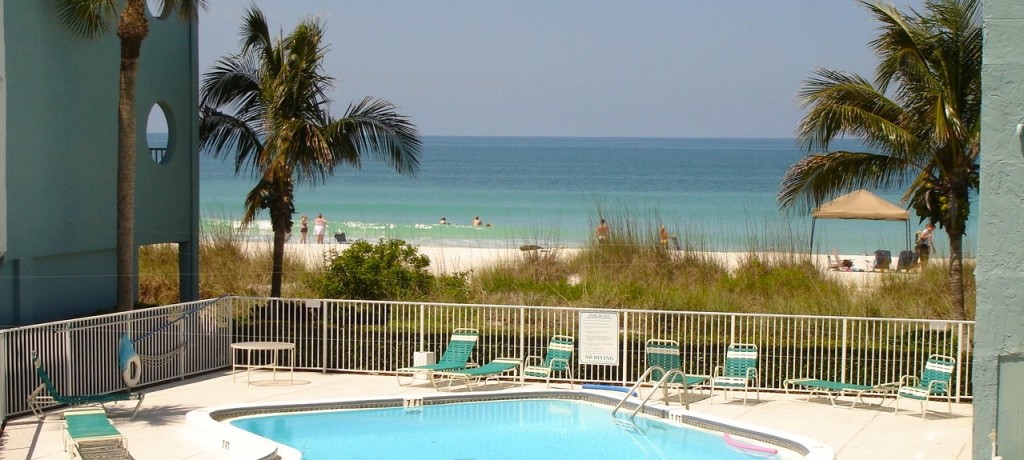 FANTASTIC VIEW!
So close you can watch the porpoises play and the schools of fish come in.
Description of material used in the condo
This gorgeous open concept, two bedroom, two bath, family room, dining area and kitchen was decorated by one of Florida's top decorators for luxury and comfort and has all the amenities and style for discriminating tastes.  We used beautiful materials like tumbled marble, Florida tile, brushed nickel and stainless steel.  It comes with beautiful new throw carpets, new reclining couches, comfortable beds, reclining couches, 57″ flat screen TV, great lighting and more. Inquire now before your dates are gone.
You'll find this unit spotless and well maintained!
Like what you see? Book now!
Heated Pool on the Gulf with Recreation Room
The swimming pool is located on the Gulf unlike most rentals on the Island. You will enjoy the Gulf breeze without the sound of traffic. From your balcony you can relax and just enjoy the view of the Gulf. You've got an amazing view of the crystal clear turquoise water of the Gulf, pool and courtyard from your personal balcony. Feel the warmth of the sun and gentle breeze of the Gulf while you relax and take in the view. Watch for our local dolphins going up the coast to feed then back down the coast to go home. Enjoy your breakfast, coffee and newspaper on the high top table and four chairs. In the summer when it's hot, turn on the overhead fan and cool off. The recreation room is in the pool area and provides you with a bathroom, shower, sink, tables and a fridge to hold your drinks and snacks. Having the recreation room on site gives you the convenience of not having to go back to your unit.
20 Steps to the Beach
Just 20 steps to the beautiful soft white sand that has been honored as one of the top 10 beaches in the U.S. and top 29th in the world. The water is sparkling clear with a white sand bottom giving it its famous turquoise appearance. Pull your chair right up to the water or float on your raft.
Master Bedroom and Bath
A large beautiful master suite hosts a very comfortable king bed, two side tables, a dresser, his and hers closets and a 27" flat screen T.V. The bathroom has a walk-in shower decorated with tumbled marble, brushed nickel hardware and a Corian vanity sink
Guest Bedroom and Bath
The guest bedroom hosts two very comfortable twin beds, dresser, bookstand with an array of books, TV and a large double closet. A rollaway bed is also available.
Family Room
Comfort is a priority when you are on vacation and want to relax. You won't sit on uncomfortable rattan chairs or couches with a juvenile, fishy decor, but rather kick your feet up on leather reclining furniture with throw blankets and pillows. There are two reclining couches and a gentlemen's reclining chair. Enjoy the full amenities of this unit: • Personal High Speed Internet • 55" flat screen TV with cable and Netflix • Reading lamps • Ceiling fan • Sliding glass door to balcony • Family caught mounted Sailfish[clear_floats]
Fully Equipped Kitchen
A fully equipped kitchen opens to the dining area and family room to keep the chef close to family and friends. This kitchen has everything you would need to make meals, appetizers, desserts and snacks. Or just open a bottle of wine and use crystal wine glasses. If you like margaritas, we have a margarita bar and a blender to mix your favorite drinks.
Kitchen Amenities
• Oven • Stainless steel fridge & sink • Dishwasher • Pantry • Everyday dishes and china • Crystal wine glasses • Margarita bar • Griddle • Coffee Pot & grinder • Tupperware • Placemats & linen napkins • China cabinet • Pot & pans • Blender • Waffle Iron • Toaster Oven • Full array of spices • Small table for two • Silverware & utensils • Decorative water fountain • Keurig coffee maker Did we leave anything out? Just suggest it!
Dining Area
A Florida-style rattan table for 6 with glass top opens to the room with comfortable, upholstered chairs. A gorgeous area rug under the glass table gives the room warmth over the white tile floor. Plenty of dishes for casual dining or enjoy china and crystal for a change.
Washer and Dryer
Do laundry in the comfort of your condo. You'll also find beach towels, games and an iron.
Outside Beach Locker and Grill
We allow our guests to use our private beach locker. Feel free to use whatever is in there. We do not guarantee that there are umbrellas or chairs. Feel free to use our grill in the grilling area.